DESCRIPTION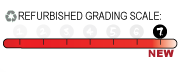 This Meucci MEG03BD was returned and refurbished by our cue repair department. It is in mint condition and features a Kamui Clear Black Super Soft tip. If you have any questions about this or any of the products we sell, just give us a call at 866-843-3294!
If you would like a specific weight on this cue besides 19oz, please make notes in your order and we will be happy to change the weight out for you.
Specifications
Tip:
12.75mm Kmaui Clear Black Super Soft
Ferrule:
Polycarbonate
Shaft:
29" Black Dot Hardrock Maple
Collar:
Cream
Pin:
5/16x18
Piloted:
No
Forearm:
Birdseye Maple forearm with Ebony colored transfer and Cocobolo points with Aluminum inlays shaped like one the four suites of cards for each point bordered by synthetic Ivory colored inlays
Rings:
Silver rings
Wrap:
Black Lacquered Irish Linen
Sleeve:
Cocobolo butt sleeve with four playing cards set within a pair of Synthetic Ivory colored rings with Six Cocobolo dice sandwiched between aluminum rings
Plate:
Cream
Bumper:
Push in Black rubber
Weight Adjustable:
Yes, with the

Meucci Weight Bolt
Product Reviews
Leave your own review for this product..