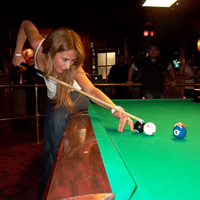 When it comes to buying a new pool cue case, every pool player is going to have different requirements. Some will just need a small case to carry one butt and one shaft while others need more space for break cues, extra shafts, backup cues and jumpers.
Here at PoolDawg, we carry a wide variety of sizes ranging from simple 1x1 cases up to 4x8 cases for the true road warrior. Have questions about which case would be best for you? Give us a call at 866-843-3294 and we'll help you find the case that meets your specific needs.
Browse All Cue Cases by Size...