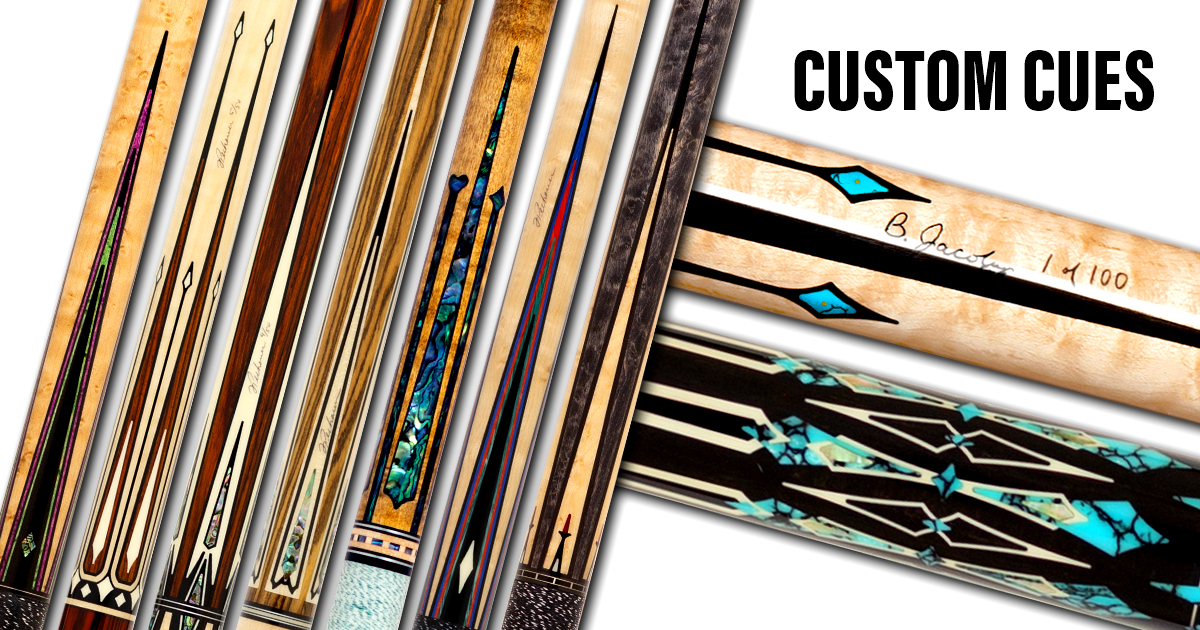 Custom pool cues are very unique in the fact that they are not only highly functional equipment, but also collectable works of art. They undoubtedly provide high-quality performance, beautiful mastery, and are a way to symbolize to others in the pool hall that your game is not to be trifled with. Custom cues can be classified in two different ways: its truest definition is a cue that is made to an individual's custom specifications. But the billiard industry has also adopted the classification of custom cue in which they identify cues that are hand crafted using the finest materials. Pair up your new custom cue with a Carbon Fiber Pool Cue Shaft for the ultimate preformance. Custom Carbon Fiber Pool Cues have the best in preformance and design, call if you're interested in a shaft upgrade.
They are often built in limited quantities and due to the exotic nature of the woods used, the craftsmanship, and other fancy adornments, they tend to be price prohibitive for most pool players. You can see in this article, How Pool Cues Are Made, everything that is involved and the level of craftsmanship it takes to make a cue by hand. Custom cues are highly sought after by collectors and pool cue connoisseurs as status symbol and an investment that will increase in value over time!
Whether it's a limited edition from Schon, or a one-of-a-kind from SouthWest, our selection of custom pool cues will not disappoint.
These custom cues typically come in small batches and aren't always easy to come by. If you're interested in one, get your hands on it today because it might not be available again tomorrow! And as always, if you have any questions, call us at 866-843-3294 and we'd be happy to help.