Valentine's Day Gift Ideas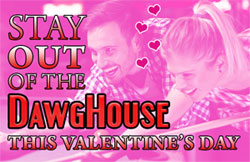 Here at PoolDawg, we love billiards so much that pool and Valentine's Day go hand in hand! The big day is just around the corner and if you are having a hard time thinking of a gift for that someone special, we're here to help! We've put together a selection of pool cues, pool cases, gloves, chalk, accessories and apparel for you. Still not sure what to get? The check out the PoolDawg Bundle. You get a cue, case, bowtie tip tool, Q-Wiz and chalk all as one perfect gift for your favorite pool player. If you're going to buy a pool cue, remember we offer engraving on most cues for only $15.00!
If you have any questions on any of the products on this page or on the website, please feel free to contact one of our customer service representatives who will be happy to help with ideas or questions at 866-843-3294.