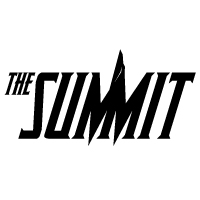 Summit "Pro-LD" Low Deflection Pool Cues and Shafts
The game of billiards has a lot in common with mountaineering. Everybody starts at the bottom and it requires a lot of hard work, training and focus to get achieve your goals. Anyone can with stumble their way through the foothills and they might even be able to catch a good vista view from some higher points but to get to the PEAK you need the right equipment. In billiards, SUMMIT will get you to the top!
Through years of testing and product development, top pool cue manufacturers have discovered that the key to pool cue shaft performance is ALL about reducing the front-end mass of the shaft. They found that lightening the first few inches of the shaft allows the tip to deflect off the cue ball more efficiently, still applying the desired spin, but with significantly less squirt off the line of aim on the shot. Essentially, less tip mass means the shaft shoots straighter. STRAIGHTER IS BETTER!!!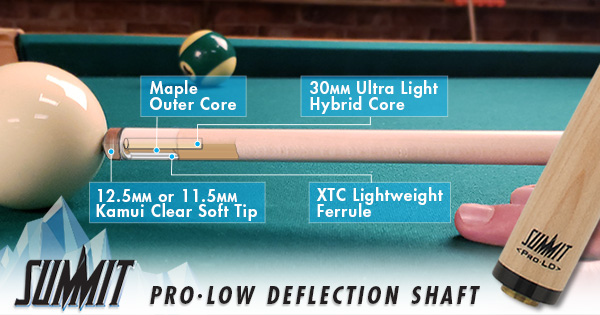 The Summit Pro-LD shaft utilizes 4 key components to reduce mass in and around the tip to create the same level of front end performance as those seen in the other top brands.
12.5mm or 11.5mm Kamui Clear Soft Tip Shaft Options
Both the 12.5mm (SUMXS1) and 11.5mm (SUMXS2) tip options are smaller than most of the other shafts in the low deflection category so that alone will make applying English easier. No expense is spared on the front end here where feel and feedback live as it comes paired with a KAMUI Original Clear Soft tip.
This is the tip Kamui recommends for accurate shooting over long distances and the Clear layer between the ferrule and leather "guarantees a perfectly aligned installation to achieve the designed tip and cue performance."
XTC Lightweight Ferrules
These Ferrules are TOUGH! And that means they don't have to be as thick and bulky as a standard pool cue ferrule. As we learned before, less is more when it comes to the front end of a pool cue shaft!
MAPLE OUTER CORE
Less Ferrule allows for more of the wood (AAA Grade Hard Rock Maple) to extend up through to the tip and that provides a truer feel for the shot with less distortion.
30MM ULTRA-LIGHT HYBRID CORE
To squeeze out every last bit of performance the Summit shafts are hollowed out 30mm deep and 6mm in diameter and then plugged with a proprietary ultra-light core. This reduces mass without affecting the feel of the hit.
SUMMIT Pool Cues and Shafts PEAK performance, BASE prices
Perhaps the best thing about these Summit Pro-LD Pool Cues and shafts is that you don't need to break the bank to get the quality equipment required to up your game. These cues are perhaps the greatest combination of performance for the price available. Call it "Bang for your Buck", "Return on Investment" or whatever you want. Bottom line here is VALUE!
You can get one of these Summit cues with the 12.5mm OR 11.5mm shaft for less than what most of the other low deflection companies sell just their shaft for. These cues are perfect for league players and others who are looking to up there game. The shafts are also sold on their own so you can also just upgrade your current stick.
Give them a try and you won't be disappointed. As a matter of fact, at Pooldawg.com, we guarantee it with our 60-Day Satisfaction Guarantee that allows you to chalk em up and shoot with plenty of time to decide if they will work for you and your game!