Leather Pool Cue Cases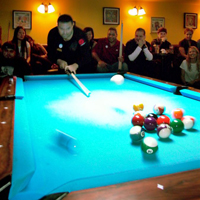 If you're looking for something nicer than standard vinyl, leather is the way to go. Here at PoolDawg, we're proud to carry some of the finest leather pool cue cases available. Instroke, Elite and Predator are just a few of the brands we carry, with sizes ranging from 2 butt 2 shaft (2x2) to 3 butt 7 shaft (3x7).
As always, if you have any questions about these leather cue cases or any of the 3,000+ products we carry, just give us a call toll free at 866-843-3294 and one of our billiards specialists will help you find the perfect cue case.