Sneaky Pete Pool Cues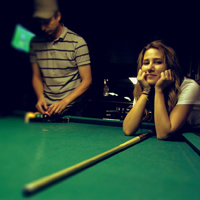 The Sneaky Pete or Hustler style cue is the oldest and most traditional design for a two piece cue. The original concept for the Sneaky Pete was to create a higher end cue that would look like a standard bar cue when assembled.

Today, fewer people buy Sneaky Pete cues for the sole purpose of hustling unsuspecting pool players and more folks pick them up because of their design. Because of the traditional style and inherent beauty of the Sneaky Pete, it remains one of the most popular and best selling pool cue design styles on the market today.
$112.00

Our Price $100.80

Save 10%

$249.00

Our Price $219.00

Save 12%

$259.00

Our Price $229.00

Save 12%

$259.00

Our Price $229.00

Save 12%

$269.00

Our Price $239.00

Save 11%

$269.00

Our Price $239.00

Save 11%

$279.00

Our Price $249.00

Save 11%

$279.00

Our Price $249.00

Save 11%

$289.00

Our Price $259.00

Save 10%