Pool Table Felt and Cloth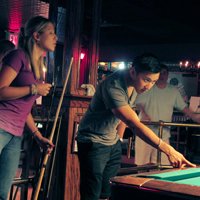 The Importance Of Pool Table Cloth (Felt)
There are very few things that compare with playing pool on a table with a fresh, new cloth on it. At least that's what we believe here at PoolDawg, and that's why we carry cloths only from the most trusted brands in the industry. We admittedly are biased, but believe that the true roll of a billiards ball over a new pool table cloth inspires passion, just like leaving the first tracks on a powder day, water skiing on a perfectly calm lake, or skating on freshly "Zambonied" ice. Oh, and it's like shuffling through a stack of crisp hundred dollar bills. (We love crisp hundred dollar bills as well.)
Not only does new billiard cloth look pristine, but it plays like a dream. The balls roll as if they are on glass. Hopefully they're headed for a pocket, but that's on you. If your table is overdue to be recovered, you're in luck: We have some great options to get your table looking and playing great again.
Market Price: $148.52

Now $126.25

You Save $22.27 (15%)

Market Price: $119.50

Now $103.95

You Save $15.55 (13%)

Market Price: $500.00

Now $472.00

You Save $28.00 (6%)

Market Price: $129.00

Now $109.75

You Save $19.25 (15%)

Market Price: $300.00

Now $258.00

You Save $42.00 (14%)

Market Price: $259.99

Now $258.00

You Save $1.99 (1%)

Market Price: $318.00

Now $275.00

You Save $43.00 (14%)

Market Price: $138.00

Now $117.25

You Save $20.75 (15%)

Market Price: $148.50

Now $126.25

You Save $22.25 (15%)

Market Price: $41.95

Now $34.95

You Save $7.00 (17%)

Market Price: $41.95

Now $34.95

You Save $7.00 (17%)
What You Need to Know When Buying Pool Table Cloth
Pool table cloth — also sometimes called "pool table felt" — is made of a combination of wool and usually nylon. Worsted cloth is the best cloth and isn't actually "felt" — the wool goes through a spinning process, which eliminates the fuzziness on the surface. Simonis manufactures a top-quality worsted cloth, and the Championship Tour Edition cloth also stands out and is a tournament-quality cloth as well.
A good pool table cloth will enhance your passion for playing. The Simonis 860, for instance, offers the best control and is used in almost all professional events, while the Simonis 760 is the fastest surface. The 860HR is a hybrid of the two. Among the less expensive options, the Championship Invitational is durable and a reasonably fast cloth. The Mercury Ultra also is fast.
A tip: To make your cloth last longer, use top-quality balls, which will leave fewer burn marks from the friction of the balls spinning.
Installing Your Pool Table Cloth
We're still waiting for technology to design a cover that installs itself, but no dice so far. Meanwhile, here are some basics:
• Cloth usually comes as one piece — enough to do the bed and the rails
• You'll have to cut six 6-inch strips (or we can do that for you if you take advantage of our $10 rail-cutting service)
• The rails are precut with the Championship Invitational cloth
• There's a difference between the top and bottom
• The top has crisp, distinctive stitching; the bottom can be fuzzy
• We have an DIY pool table felt installation guide, to save you hundreds of dollars doing it yourself
• To find a local installer, do an online search for "pool table services" and include your city and state
Get a True Roll With PoolDawg
Whether you call it pool table cloth or felt, it's the quality of the material that will have a drastic impact on your game. Fortunately, we offer cloth from the industry's top manufacturers: Simonis and Championship.
When it's time for a pool table felt replacement, keep the basics in mind: Worsted cloth is superior to "felt" for the pool table; different types will provide better control or more speed; and most important, we at PoolDawg are always ready to help you select your billiard felt or worsted cloth and answer all of your questions. Contact us today.