Black Friday Week Specials… New Deals Daily!
Category: About PoolDawg, Billiards Products
It's that time of year again… BLACK FRIDAY DEALS TIME! Here at PoolDawg we are kicking off the holidaze shopping craze with a new deal everyday starting RIGHT NOW! Check back here daily to see the latest deals because we will be launching a new deals from now up until Black Friday.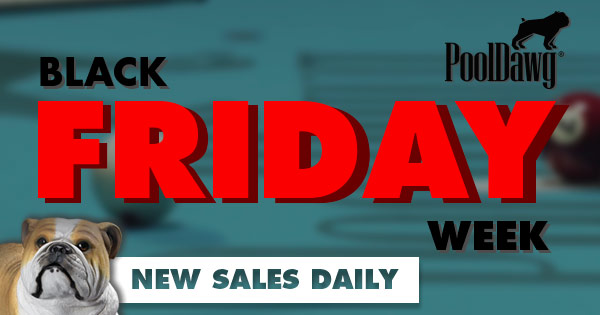 BLACK FRIDAY HAS FINALLY ARRIVED! CHECK OUT THE PAGE OF DEALS HERE: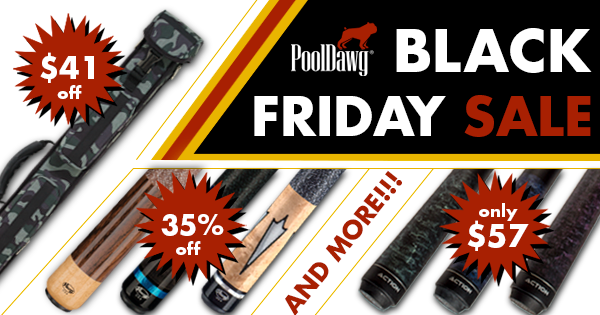 For this EPIC shopping holiday we're offering huge discounts on all kinds of products. We have great deals on cues, cases, and accessories from brands like Predator, Viking, OB, Action, Riley, Dufferin, Scorpion and more. Some of these deals have discounts up to and over 50% off MSRP! There's no code necessary, just add these items to your cart then checkout! It's as easy as that! Quantities on some of these products are extremely limited, so don't miss out on your chance to save!
We've been Stacking up deals all week and you can still take advantage of the other deals from earlier in the week! Now that Black Friday is here, it's time for you to start staking up these specials in your shopping cart and cash in on some awesome savings for the Holidays!



BLACK FRIDAY WEEK DEAL ONE: Get an ADDITIONAL 10% OFF Items in Our Clearance Section! (use code CERT18)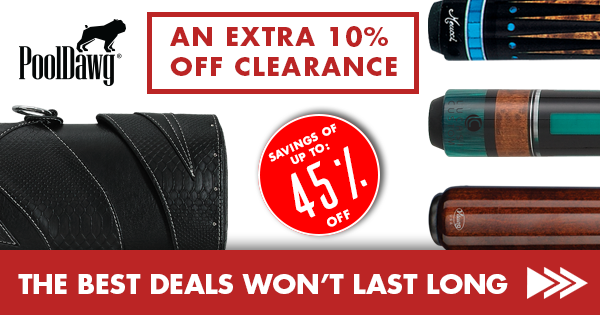 So you know how we have that sweet 60 Day Satisfaction Guarantee that even includes chalked pool cues? Well sometimes when a product doesn't work out, we take it back so we can get you all something that'll work out better. When that happens, the products don't go back into stock. Instead, we clean them up, put them through a thorough examination (grades and descriptions can be seen on the product pages) and then offer them on our Certified Pre-Owned (CPO) clearance pages with an extra discount!

You can find some real gems-of-a-deal in this section and for BLACK FRIDAY WEEK you can get an extra 10% OFF by entering the code CERT18 at checkout. This deal will be running all week and we will be adding some new CPOs so be sure to check back. REMEMBER, every Certified Pre-Owned pool cue, shaft, and case in this clearance section is its own unique special. If you see one you like you better jump on it! If you don't someone else might buy it up first.



BLACK FRIDAY WEEK DEAL TWO: Get an ADDITIONAL 10% off POOLDAWG branded Pool Cues, Cases and Accessories! (use code DAWG10)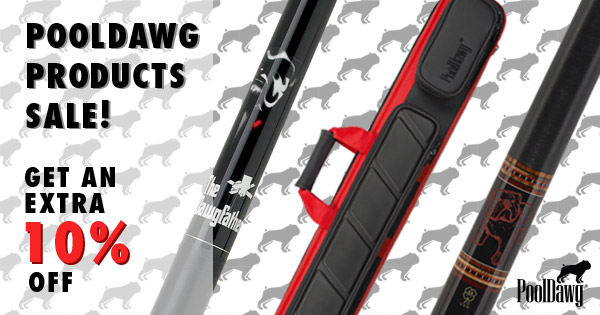 If you aren't familiar with our PoolDawg Branded products, now is the time to check them out! Over the years we have been teaming up with a number of the top brands in billiards to have them help build us our own line of PoolDawg products. We have a couple of REALLY nice cues that McDermott laser engraved Frank the Dawg onto the sleeve, our crazy popular DAWGFATHER break cue (featured in People Magazine as a top gift for Fathers Day), the Pooldawg Bundle that is a perfect pool player starter pack plus a TON of cool cases and accessories. These are all great products and THIS WEEK you can knock off an extra 10% using code DAWG10 at checkout.
*Secret offer for the people who read these details... Gift Certificates are listed as part of this special!