Balabushka pool cues are one of the best known pool cue names in the industry. George Balabushka died in 1975, but the cues continue to live on. Balabushka pool cues were re-introduced in the 1980's with the permission and license by the family of the late George Balabushka. The Balabushka pool cue replicas continue to be in high demand by players and collectors alike. Balabushka pool cue replicas typically feature Irish Linen Wraps, 13mm Pro Taper Shafts, Birdseye Maple Forearms, Stainless Steel Joints and a replica George Balabushka Signature.
Don't forget that every Balabushka Cue qualifies for Free Ground Shipping in the lower 48 United States! PoolDawg is an Authorized Dealer for Balabushka pool cues and billiards products.
Browse All Balabushka Cues...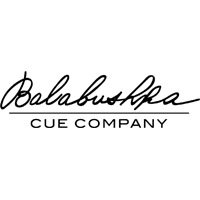 Balabushka Cues