Black Friday Specials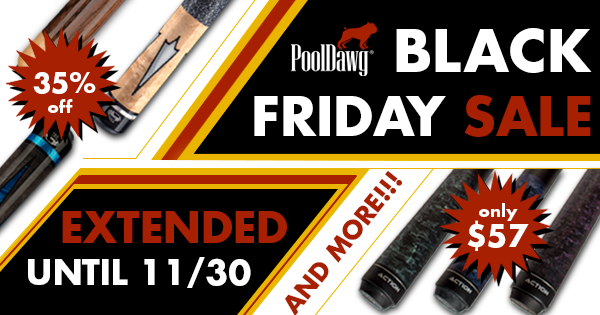 BLACK FRIDAY WAS HERE and GONE and we are extending these deals until Friday, November 30, 2018.

For this EPIC shopping holiday we're offering huge discounts on all kinds of products. We have great deals on cues, cases, and accessories from brands like Predator, Viking, Action, Riley, Dufferin, Scorpion and more. Some of the deals on here have discounts up to and over 50% off MSRP! There's no code necessary, just add these items to your cart then checkout! It's as easy as that! Quantities on some of these products are extremely limited, so don't miss out on your chance to save!
In addition to the awesome deals on this page, we are still offering some crazy good Certified Pre-Owned Cues, Shaft and Case deals for an extra 10% off those Clearance items by entering code CERT18 at checkout.
Here at PoolDawg, we've been stacking up sweet deals all week. Now that Black Friday is here, it's time for you to start staking up these specials in your shopping cart and cash in on some awesome savings for the Holidays!