Cues By Style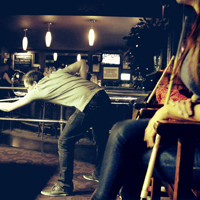 With over 1,000 respected pool stick brandsand cue makers in the billiards industry, PoolDawg is your authoritative resource for all your billiards needs. Our cue sticks range in price from around 20 bucks to $1,000 and beyond, so regardless of your skill level, we've got the cue for you. Whether you need a beginner's level or starter cue from Action, a low deflection, high performance cue from Lucasi and Predator or even a one of a kind, personalized pool sticks, we have what you're looking for.
Among the 40+ brands we carry are: Scorpion, Lucasi, McDermott, Meucci, Predator, Outlaw torch branded pool cues, Joss cues and Schon custom cues. You can either shop pool cues by style or shop our pool cues by pool stick brands. As always, if you have any questions, just give us a call at 866-843-3294.
If you're looking for a high quality cue without a lot of fuss, the Schon CX01 custom pool stick is the perfect choice. Backed by Schon's proprietary manufacturing techniques and incorporating fine woods and proprietary components, this cue definitely lives up to Schon's tradition of excellence.

Learn More

$655.00

Our Price $524.00

Save 20%

While its design may be understated, you can be assured that the craftsmanship behind the Schon CX33 cue is anything but simple. Beautiful Birdseye Maple on the forearm features sleek ebony inlay points topped with diamond shapes. The black Irish linen wrap with white specks leads to a lustrous ebony sleeve.

Learn More

$665.00

Our Price $532.00

Save 20%

Unique arrow point designs are expertly inlaid in ebony on the forearm of the Schon CX53 custom pool stick. Light Birdseye Maple complements the black ebony inlays and Irish linen wrap with white specks. Great time and concern went into the design and proprietary manufacturing process behind this cue, right down to the thin sliver rings and proprietary parts, including the tip, ferrule and collar. Players will appreciate the cue's stiff hit, which is the result of its piloted stainless steel joint and shorter shaft taper.

Learn More

$688.00

Our Price $550.40

Save 20%
Please wait...