Shipping Information
Free Ground Shipping for orders $99 or more!
At PoolDawg we pride ourselves in having the best turnaround time we can when it comes to shipping. We offer same-day order processing (up to 3pm EST), free shipping for orders over $99, and a number of shipping options to make sure your package gets to you safely and quickly.
If you have any questions or concerns about receiving an item by a certain date/time please call us at 866-843-3294 before ordering.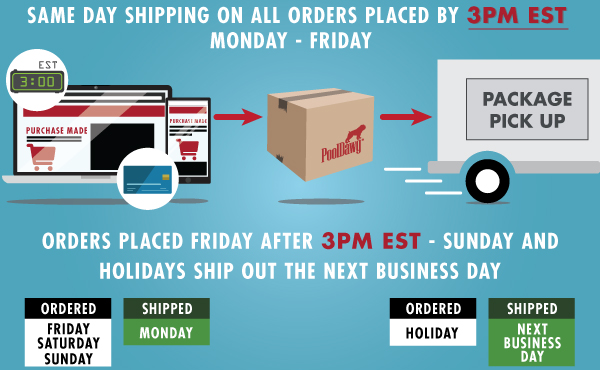 Place your in-stock order before 3:00 pm EST, Monday through Friday, and your order will be rushed out the door that same day! Note that orders with tip changes, engravings, or other customizations can take extra time (2 -3 business days) to ship.
Here is the UPS Ground transit time map that applies to our FREE SHIPPING method for orders over $99: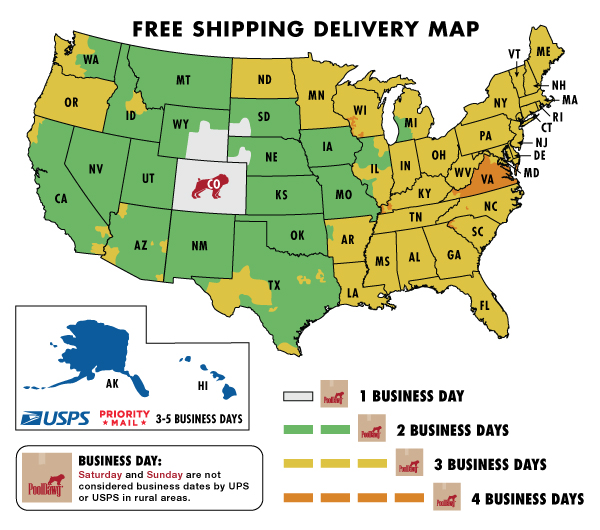 HOLIDAY SHIPPING INFORMATION:
Due to the high volume of shipments during the holiday season and ongoing changes from the COVID-19 Virus please be aware of the following:
1. If possible, give yourself extra time for delivery during the holidays!
2. The US Postal Service has been inconsistent with their delivery times and tracking updates. Many packages are being delivered on time but we are also seeing whole batches of shipments that do not have shipping updates for several days to over a week in some cases leading to delayed deliveries. If you need the items fast, we highly recommend using UPS shipping methods!
*Pooldawg cannot guarantee any USPS shipments to arrive on time. (Priority Mail and First Class)
3. International Shipments are not guaranteed to arrive before Christmas. We've been seeing an additional 7 – 15 days for these shipments due to delays at the borders and international customs.
Expedited Shipping Services:
If you need to get your package faster you can select expedited shipping for 3 Day, 2nd Day and Overnight services at an additional charge. Shipping charges may be calculated by adding items to the shopping cart, entering your zip code, choosing a shipping method and clicking the calculate shipping button.
* As of March 26, 2020 and until further notice, UPS has suspended the UPS Service Guarantee for ground, 3-day, and 2nd Day domestic services. This means that shipping refunds for late deliveries will not be issued except for Next Day services are "guaranteed" in that you can get a refund if there is a legitimate delay that isn't weather related.

USPS First Class Mail options are generally the cheapest way to go for shipments under .7 pounds and usually take about a weeks' time. Priority mail will be delivered in 2-4 business days.
*Please be aware that the US Postal Service has been very inconsistent with their delivery times and tracking updates. If you need the items fast, we highly recommend using UPS shipping methods!
Regular ground shipping within the 48 contiguous United States takes anywhere from 1 to 5 business days. Time in transit quotes and scheduled delivery dates can be located at the UPS web site once you receive confirmation of shipment and a tracking number has been issued. Saturday and Sunday are not considered business days by UPS or USPS.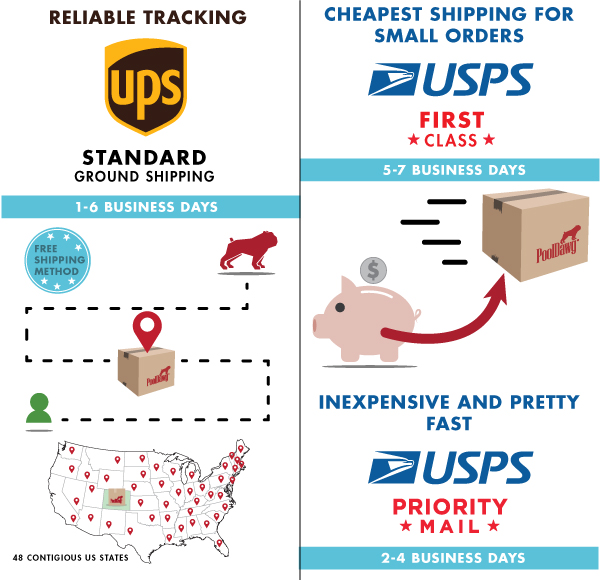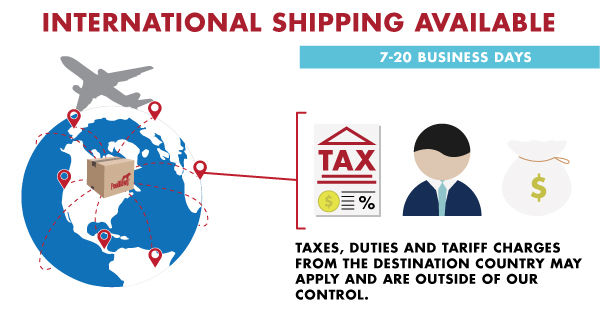 PoolDawg.com only collects sales tax for orders originating from the state of Colorado. Customers placing orders from any other state or country are responsible for any taxes or tariffs that their local governments may apply.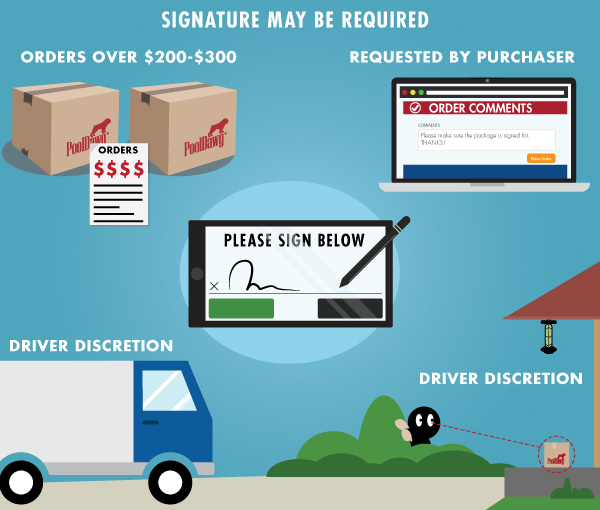 Weather events between our location in Colorado and your home could cause delays so make sure you give yourself extra time if possible! Call us if you have any questions or concerns with getting your orders by a certain date. Please note that PoolDawg reserves the right to require a signature on any package. Typically orders over $200 - $300 will need to be signed for. In addition, please be aware that UPS will require a signature based on the individual driver's discretion.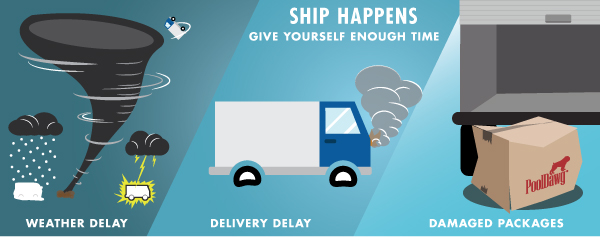 Customer Service Hours
Monday through Friday 10:30AM to 7:00PM EST.
We will always respond to your questions and concerns with in 24 hours.
Phone: 866.THE.DAWG (866.843.3294)
E-mail: info@pooldawg.com

2021 UPS Shipping Information