The carbon fiber pool cue shaft has changed the billiard world like no other product in recent history. Not since the development of the leather tip has an advancement in billiards equipment taken such a large jump forward. While the adaptation of the leather tip (credited to Captain Francois Mingaud who perfected the design and playing technique while in a French prison over 200 years ago) literally brought spin to the table, carbon fiber shafts have made mastering that spin exponentially easier. Through years of research and development, presumably outside of prison, top pool cue manufacturers have discovered new ways to leverage the light-weight strength of carbon fiber to create the highest performing, most consistent, and durable shafts possible. Much like the leather tip, this new shaft technology greatly increases the ability to manipulate the cue ball with the application of spin thus making the game more enjoyable for those wielding it.
Scroll Down to Continue Reading About:
Carbon Fiber Pool Cue Shaft Benefits
When compared to standard and low deflection wood shafts, carbon fiber is at an entirely new level for several attributes that are highly valued by pool players including: Performance, Consistency, Durability, and Low Maintenance.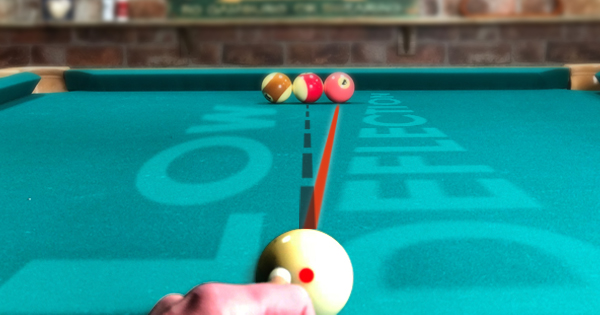 Performance is by far the most valuable benefit of a carbon fiber pool cue shaft. For pool players performance is synonymous with cue ball control which involves creating additional spin while maintaining accuracy. When side-spin is required "Squirt", an angle deviation from the stick line, is a factor that needs to be compensated for. The amount of squirt depends on the tip offset from the center (more offset = more squirt) and the shaft itself with lighter tip end mass combined with flex to reduce the squirt angle.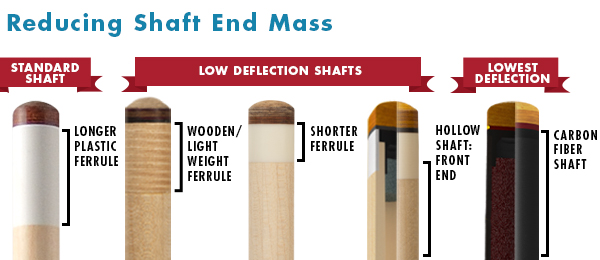 The ultra-efficient, aerospace grade carbon fiber strength combined with the prescribed flex imparts more spin with less tip offset and allows for the lowest amount of front-end mass, all but eliminating cue ball squirt. Not needing to adjust your aim when applying spin allows for much greater cue ball control with more balls pocketed and games won!
Consistency goes hand in hand with performance. Wood shafts can play differently depending on which way they are held and those inconsistencies can get amplified over time as the wood changes or warps. With a carbon fiber cue, you're going to feel the same hit, every time regardless of which way you hold the cue. That means that you will never have to consider what part of the cue should be up or down. The stronger material also allows for a low-rise taper which help to give a more precise stroke.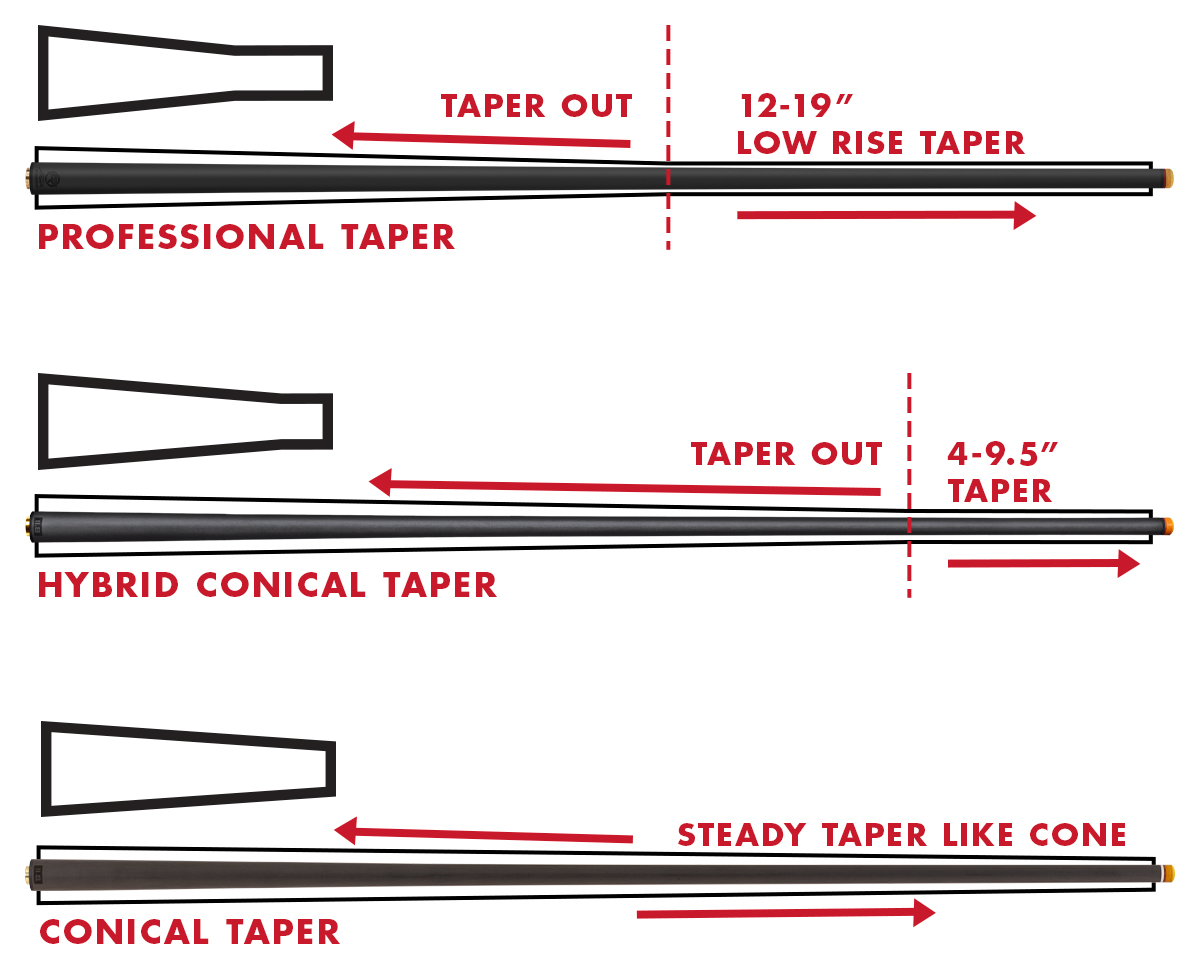 If tragedy strikes and something happens to your shaft, a replacement or backup will also play exactly like the original so there will be no adjustment period required to get in stroke. With the consistent hit of a carbon fiber shaft, you will have total confidence in your equipment which will help you gain confidence in your own ability and improve faster!
Durability is another very important attribute in a pool cue shaft that may be enough on its own to justify the investment in a carbon fiber shaft. This will be the last shaft you'll ever need as they will literally last a lifetime. The proprietary material used may vary slightly from manufacturer-to-manufacturer but you will find ding and warp resistance across the board. Unlike their wooden counter parts carbon fiber shafts won't warp in the heat or cold. They also won't get dinged up when you've gone temporarily insane after a bad shot or had a few to many at the pool hall.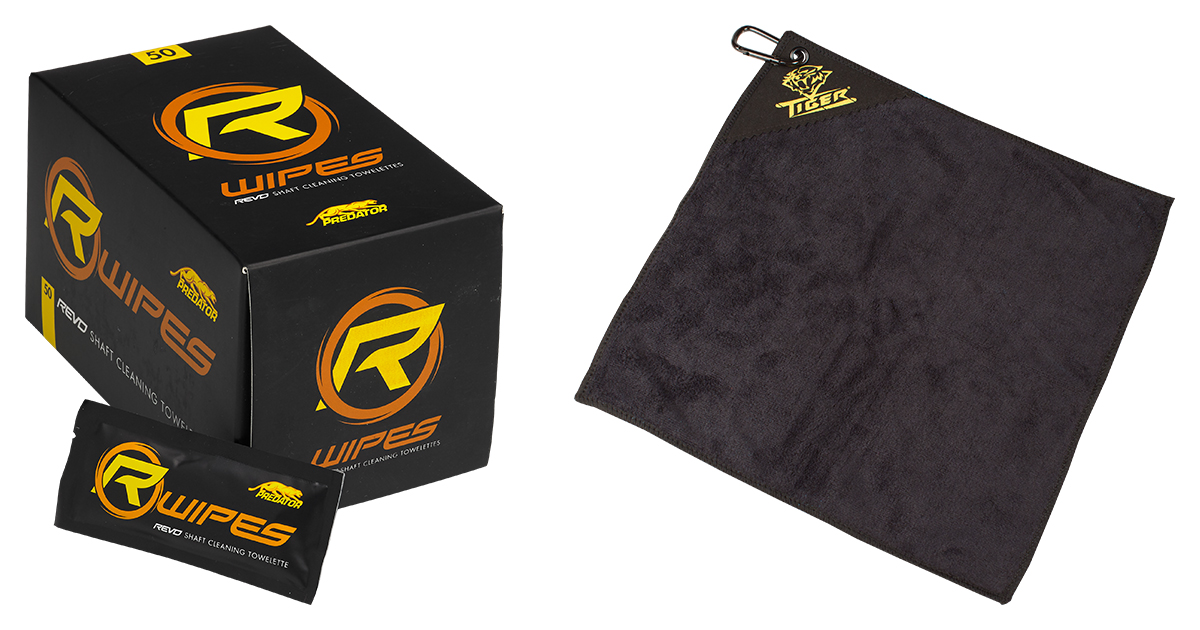 Low Maintenance is probably the most convenient benefit of a carbon fiber shaft. As a rule of thumb, always go by the manufacturer recommendation, but typically the only things you need are alcohol wipes and a microfiber cloth. Throw away those abrasive papers and chalky liquid cleaners because you're not going to need them. Debris and grime will simply wipe right off the smooth surface. That means no set-in chalk stains! Tips will still need routine maintenance.
The Best Carbon Fiber Pool Cue Shaft
Carbon Fiber shaft technology represents a seismic shift in pool cue performance. We carry over 20 different options that are all very good and excel in creating spin and minimizing cue ball deflection. The best carbon fiber pool cue shaft is the one that matches your desired tip diameter, feedback (or feel) preferences, and joint compatibility requirements.
Tip sizes range from 11.75mm up to 12.9mm with the smaller tips preferred by advanced players that utilize exceptionally precise tip placement and want extra spin. The larger diameter shafts provide more power and forgiveness. The feel and feedback of the shafts are determined by a combination of features including the carbon fiber material and finish, foam fillers, taper, ferrule, and tip style.
The Cuetec Cynergy and Predator REVO are the top two Carbon Fiber shaft options when it comes to popularity and for good reason! Both brands have done extensive testing to create distinctive characteristics that effect their performance and feedback and both are available in a variety of tip sizes to meet every player's preference.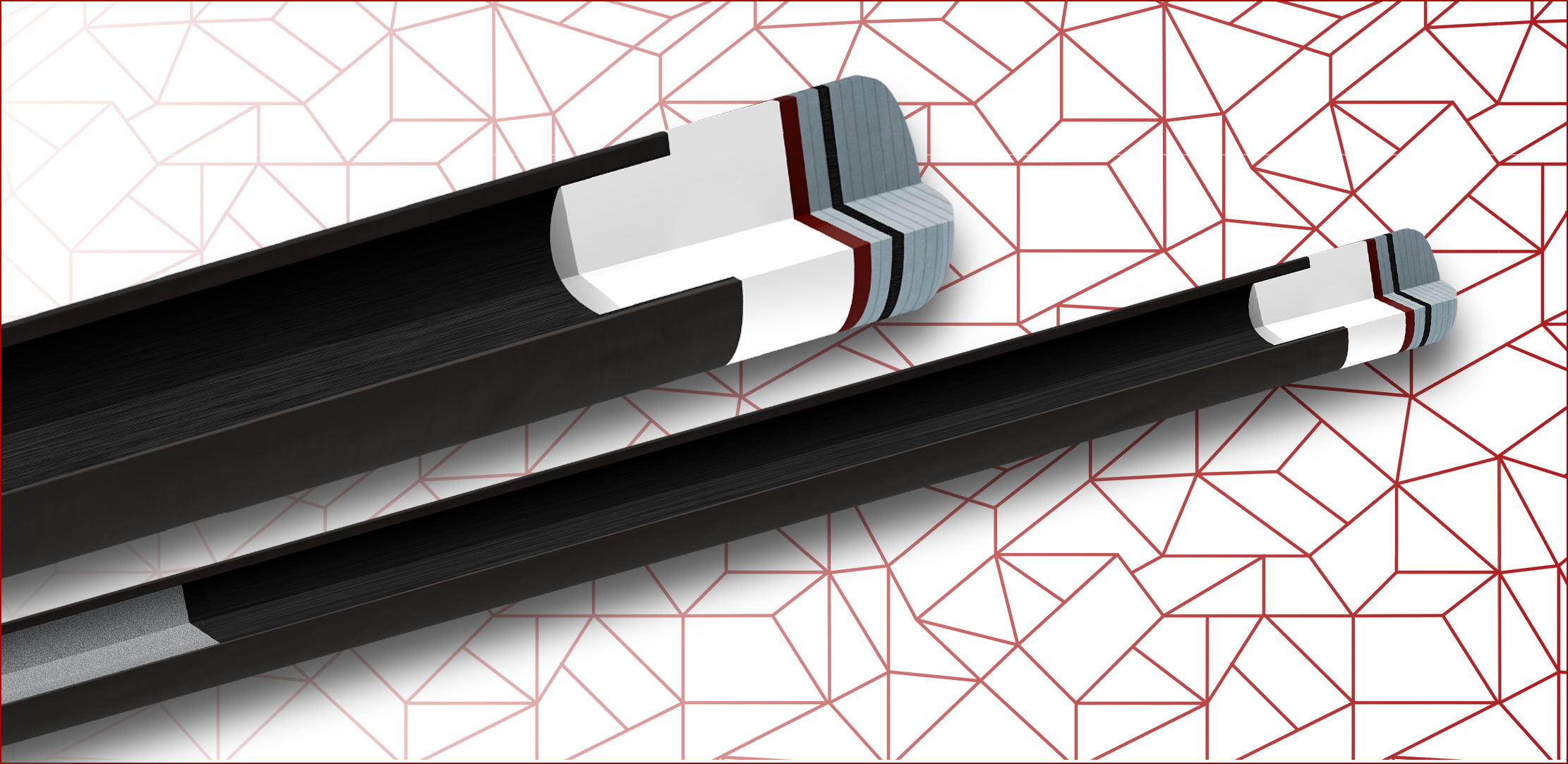 The Cynergy 15k Carbon Fiber shaft is available with 12.5mm and 11.8mm options with virtually zero taper rise over the first 15.5 and 9.6 inches respectively. Now available in 10.5mm with a hybrid conical taper as well! The .25-inch white sighting ferrule, soft-medium hardness Tiger Sniper Tip, and polyurethane foam core create the most wood-like sound with increased feedback. The Cynergy shaft is the choice of World Champion's including: Shane Van Boening, Florian "Venom" Kohler, and Fedor Gorst.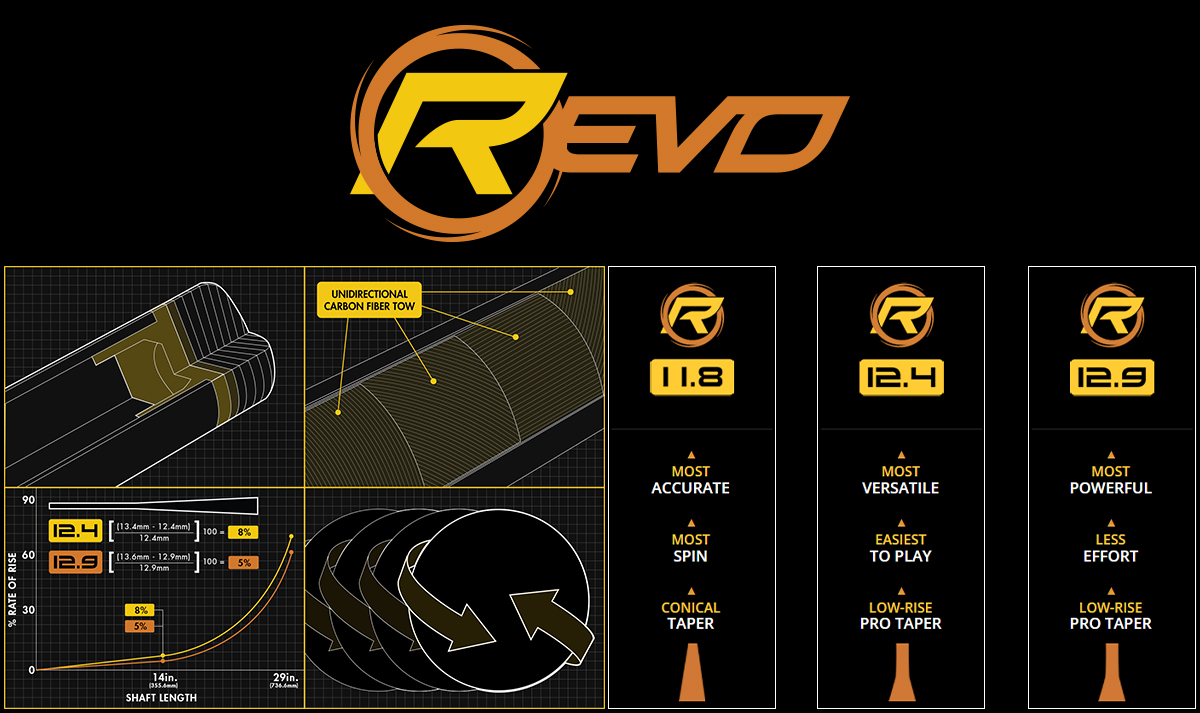 Second to none when it comes to performance, the Predator REVO Carbon Fiber shaft comes in 11.8mm, 12.4mm, and 12.9mm tip sizes and you can choose white or black for their patented "ferruless" vault plate technology. Predator spent over 20 years perfecting the REVO and their innovation is trusted by more professional pool players than any other pool cue brand with their team boasting some huge names as well like the Ouschan, Filler, and Barretta to name a few.
Other top pool cue brands have their own versions of Carbon Fiber shafts with peak performance. They all play at the highest levels but offer their own unique specifications, feedback, and tip size options. The Jacoby BlaCk shaft features an extra-long 19" Pro-Taper plus an extra capital "C" in the name, which is cool. McDermott's Defy shaft has a SmacWrap vibration dampening construction with a super-smooth coating. The Pechauer Rogue combines carbon fiber technology with a high tensile aramid fiber that is used in bulletproof vests. Mezz Ignite utilizes composite lamination technology (ICLT) for their shafts, and the Meucci Carbon Fiber Pro is already on its second version. Most of these shafts are available in the major joint styles.
If you have several different pool cues with different joint styles, the ability to change the shafts compatibility may be a feature that influences what the best carbon fiber pool cue shaft would be for you. Bull Carbon Fiber and Spartan Victory shafts are both fantastic interchangeable shafts that don't sacrifice a bit of their feel or performance. With these brands you can buy one shaft and, for a fraction of the price, get additional joint inserts so you'll be able to use it with your entire cue collection!
Choosing the Right Carbon Fiber Pool Cue Shaft
Carbon Fiber shafts are a significant investment that will basically last forever so make sure you know what joint style you need and then use due diligence when deciding on which brand/model to buy. Talk to other pool players in your circle and try some out if you can. Reading the product reviews is also a great way to get some unbiased insight into how the various shafts will play before trying it out for yourself. Don't hesitate to give us a call (866-843-3294) to bounce your thoughts off of our knowledgably staff and we'll help fit you.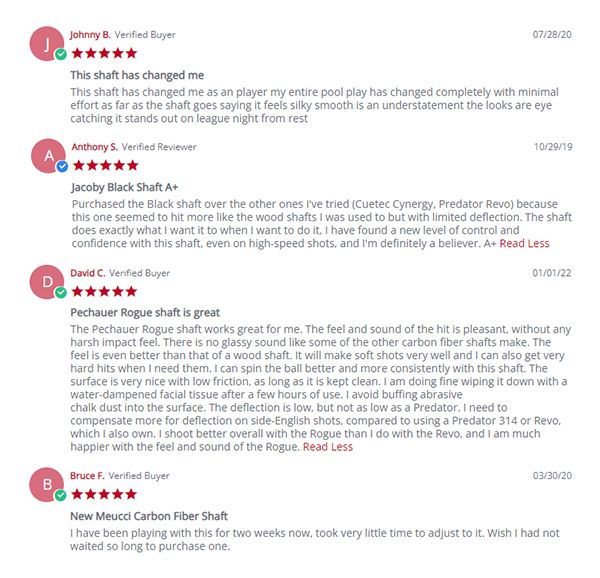 Lastly, don't sweat it too bad because we do have a 60 Day Satisfaction Guarantee so you won't get stuck with a product that doesn't work for you and your game. At PoolDawg, we make sure that you get the best carbon fiber pool cue shaft!