Olivier Custom Pool Cues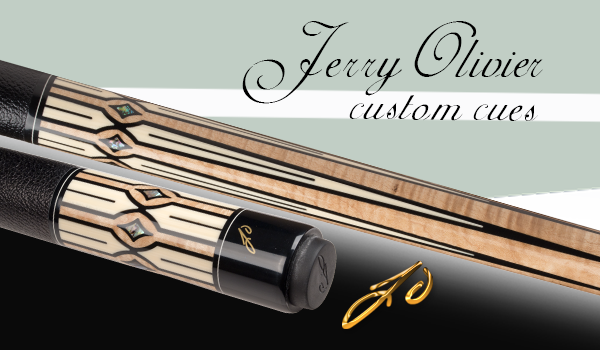 Check out the new, never before seen Jerry Olivier Custom Cue below! We only have one in stock, so get your hands on it while you can! Call us at 866-843-3294 with questions.
Olivier Custom Pool Cues are finely crafted and truly unique, collectible works of art. These handcrafted, small-batch pool cues look and feel like they should be enshrined up on the wall of your game room, perhaps with some special gallery lighting, only to be accessed on special occasions; but that would not do them any justice. Jerry Olivier's cues are designed and built to be great performing cues that should be used to help you win games. The fact that you will look professional doing it and receive comments on your prized cue is definitely a bonus to consider for owning an Olivier!
$1,500.00

Our Price $1,350.00

Save 10%

$1,600.00

Our Price $1,400.00

Save 13%
Jerry Olivier is passionate about the game of pool and has been since he was a kid. He started out doing cue repairs as a hobby out of his garage in Pearland, Texas and has now been designing custom cues since 1995 – over 20 years! He is a proud member of the American Cue Maker's Association, inducted by fellow prestigious cue makers.
Mr. Olivier has gained a large following of cue collectors through his various travels to major pool tournaments. If you've ever attended one of the larger national events like the Super Billiards Expo or regional events in Texas, you've likely run into Jerry yourself and are familiar with the quality of his work.
His custom pool cues display elegant, classic designs constructed with only the finest, handpicked materials. Due to the natural beauty and unique characteristics of ebony, birdseye maple, malachite and other exotic inlays, each cue is truly a one-of-a-kind piece of art. He takes pride in the quality of his leather wraps and strives to make the best cue he can for pool players of all levels.
Here at PoolDawg, we are thrilled about this partnership with Jerry Olivier and to be selling these cues that consistently provide quality, precision, and performance.
In this partnership, we will receive new designs that have not been seen before at shows or online. Make sure to keep an eye out for your desired custom Olivier cue, as they tend to sell out right away!