Holy Pool Balls Batman!
Category: Pool In The Public Eye
Is it just me, or is pool starting to show up everywhere again? In the past month, I've seen pool showing up on TV shows, in commercials and in movies, but the other day an old friend from LA mentioned to me that there's a giant pool ball art exhibit at LACMA (Los Angeles County Museum of Art for those not from SoCal). LACMA was one of my favorite museums growing up (I still think of SoCal every time I see a David Hockney painting), so needless to say, I had to look it up.
I headed over to the LACMA website and sure enough, there it was as big and bold as ever: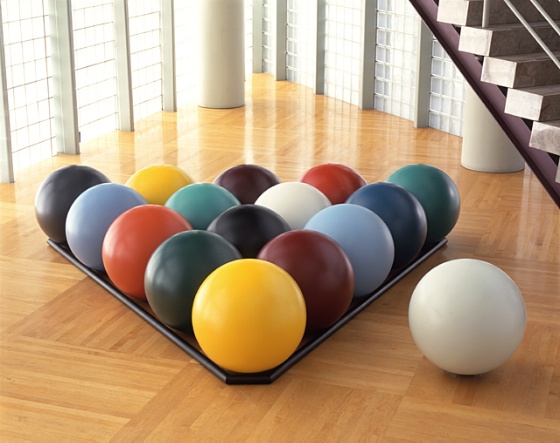 This sculpture was created by Claes Oldenburg and features 15 balls in a rack along with a cue ball. Each ball was constructed with fiberglass and metal, standing approximately 24 inches tall. The entire display is 24" x 120" x 108".
While the balls are not traditional "solids and stripes", it is extremely cool nonetheless. To get an idea as to exactly how big this installation is, check out the video below (feel free to skip to about 1:20 to pass the ketchup installation).