Category: About PoolDawg,PoolDawg News and PR
We all live in a fast paced world that just keeps getting faster and faster every day. Technology in particular is accelerating at an insane rate! It's hard to keep up… That's why it's nice to slow things down every now and then to put things into perspective.
With that in mind, PoolDawg is very happy to announce our new "Slow Motion Billiards Series," where we use the latest advancements in camera technology to film pool shots at up to 6,000 frames per second! That allows us to slow down the video to catch actions and movements in ways that the naked eye couldn't normally see.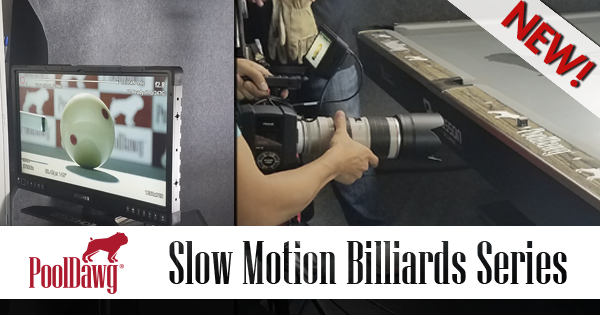 Previously, Super Slo-Mo technology has brought the world amazingly captivating videos of fruit explosions and people getting slapped in the face with fish. We are using that same type of idea and applying it to pool shots so you can see what is really happening with your pool cue, balls and table. Although we didn't capture any trout smacks (this time at least), we did gather up some nice footage that we think is cool and can help everyone to understand the game of pool in a way that was previously unavailable.
Here is a sneak peek at the first video in this new series. In this clip, we show what the tip compression looks like on the cue ball using a Kamui Clear Black Super Soft tip. The full length video, which will be released August 1st in our PoolDawg Academy, shows the compressions of the soft, medium, hard and a phenolic tips for visual comparison.
In addition to the tip compression video, we also have plans to show super slow motion aspects for chalk retention, shaft deflection, cue ball spin and the effect on tangent lines, jump shots, break shots, and other fun things we could think of include a very special myth busting segment. We had a blast filming these and we hope that you enjoy them!
Follow us on Facebook and sign up to receive our emails/free catalog so we can let you know about upcoming super slow motion billiard video releases.
Special thanks to Florian Kohler, the Killer Dutch crew, and Kuma Films!
Thanks for watching! Here's some more behind the scenes footage of our slow-mo adventures!