Jason Lawrence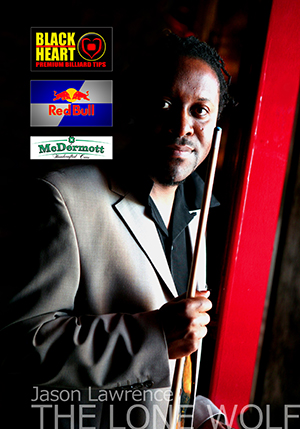 Black Heart Premium Billiard Tips Presents
Pool Coaching & Guidance By Jason 'The Lone Wolf' Lawrence.
ABOUT Jason 'The Lone Wolf':
Before underwriting the task of running, designing and producing Black Heart Premium Billiard Tips Jason 'The Lone Wolf' Lawrence was a tour player on the EPBF Professional Euro Tour circuit, competing against some of the world's elite champion pool players. As a pro player, Jason is Jamaica's No.1 player through parental heritage and highest Euro Tour ranking position which no other Jamaican descendant has ever matched.
With over 30 years of Cue Sport knowledge his abilities have taken him around all corners of the world as a touring professional. From personal professional development, self-marketing & promotion to self determination, state of mind, rudimentary balance, skill and ability there is no doubting the qualities Jason will present through his instruction.
The instructional focus will be that of coaching and guidance rather than physical technique, (which has been discussed many times over the course of generations). Jason will provide a fly on the wall insight of what it means to be a professional pool player. From anguish and triumphs to tragic economic hardship and dedicated payoffs. Through these series of instructional advice and guidance you will truly understand why you; the pool player whilst competing are a lone wolf in the wilderness.
Thank you to the PoolDawg.com Academy for inviting Jason to share his ideas and thoughts to you the pool player and hope through reading and practice, your game is taken to a higher level of play, processing and outcomes.
To learn more about Jason check out his website at: www.jasonlawrence.co.uk
About Black Heart Premium Billiard Tips, please visit: www.bhtip.com
Black Heart Premium Billiard Tips