Meucci MECO01 Smoke Stained Pool Cue Meucci HP03BD Pool Cue Meucci 9709BD Pool Cue
---

One brand synonymous with high quality pool cues is Meucci. Its cues are designed to give players both casual and professional increased power with less exertion, and they're said to have less deflection compared to competing brands. For a well-rounded cue at a reasonable price, Meucci is one brand of cue worth considering seriously.



If you're tired of cues that require a great deal of effort for minimum results, Meucci's Sneaky Pete eliminates this problem. Its distinct joint and ferrule assembly addresses this issue beautifully, and allows you to explode the balls apart during a break without much effort. During play, it will also provide you with more consistent hits which are less susceptible to cue ball deflection.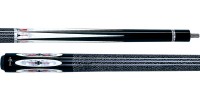 The gem of Meucci's line could very well be its black ebony and pearl model. This cue not only features gorgeous styling; it's one of the most dependable Meucci cues. It features a Black Dot Bullseye Shaft, which is crafted from 35 layers of hardrock maple and finished off with flat lamination. This combination of striking good looks and high quality construction makes it an ideal Meucci cue for players that require an attractive performance-boosting cue.

When you order a Meucci cue from pooldawg.com, we include a complimentary gift of your choice and free shipping with every order. If the cue you order is in stock, we'll even ship it the same day you order it. At pooldawg.com, we strive to give our shoppers the best possible online shopping experience. Our billiards pros can also provide free knowledgeable customer service via telephone or email for those that need help or advice choosing the right cue.
For more information, call 866-THE DAWG or send us an email.