Hello straight pool fans! This time I thought with all the excitement of the world tournament of 14.1 I would do an interview with a true legend of the game, Mr. Nick Varner. Nick has won 8 world titles, in five different disciplines of pocket billiards. His first world title however was in 14.1 back in 1980. I had a chance to sit down and chat with Nick as he took me down memory lane to describe is experience at the 1980 world championships and his views on 14.1. So now let us go back to 1980, the Roosevelt Ball Room in Manhattan, NY. A time of big straight pool action and big hair!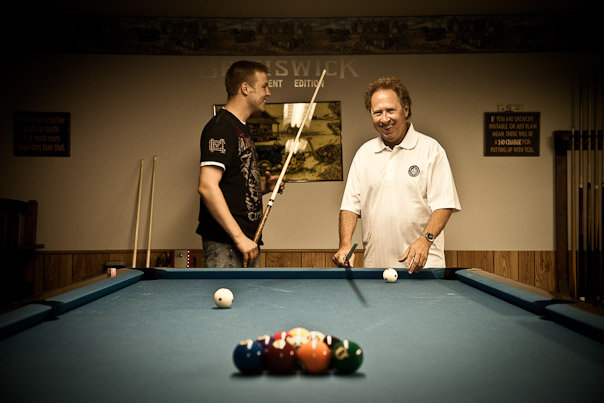 Me: Were you invited to the tournament, or did you have to qualify?
NV: Well, back then it was an open event, all you had to do was pay the entry fee into the event.

Me: Was this your first time playing in the world championships?
NV: No, I actually played the year before in 1979.

Me: How did you prepare for the tournament?
NV: I happened to be in Chicago for a few weeks before the World Tournament. I was playing mostly one pocket and 9 ball. I was in action every day, playing a lot of good players. I just practiced my break shots for two reasons. To get a feel for both making the break shot and be sure I didn't scratch while shooting the break shot. I didn't see a shot I didn't like in those days, so ball pocketing wasn't really a concern. I did play some straight pool though and I was running 100s every day. I always seemed to focus better while competing.

Me: Who were your toughest opponents on your way to the title?
NV: Mike Sigel for sure, back then he was just playing really good, or maybe Steve Mizerak. There was also Joe Balsis. Interesting story about Joe. I played Joe back in 1968 when I was 20 at Purdue University in an exhibition match. Back then I didn't think I had much talent and that he was going to just beat me to death in front of all my fellow class mates. Well, Joe runs 50 balls and he misses. I thought wow I get a chance to shoot. Finally he missed when the score was 147-92, and I got up and ran 58 and out to beat him! I was floating on the clouds! I had just beat the great Joe Balsis! He really zeroed in on me after that in the future. I played him countless times after that and Joe just really bared down on me and beat me, until 1980 at the world tournament where I finally beat him again.

Me: Everyone said that you dominated the 1980 World Championships. Do you remember any of the scores?
NV: Well, I played 7 matches to win the title. Each match was a race to 150 points. I scored 1,050 points to my 7 opponents combined score of 275 points.

M e: Was this your first trip to New York?
NV: No, I had been there once be fore in 1979. I drove up from Kentucky that year and I stopped in at Steve Mizerak's pool hall. The Miz offered me the 8 playing 9 ball. So I took it and I beat him with that spot. After I won the world title in 1980 he jokingly asked if still had to give me the 8!

Me: Were you known as a 14.1 player?
NV: Yes, and No. I played it a lot in college. I won the collegiate championship in 1969 & 1970, those were all 14.1 events. I also won the Texas 14.1 Open, beating Jack "Jersey Red" Breit.

Me: You came up the ranks during the tail end of some of the greatest players of all time. Who were some of your favorite players from that previous era?
NV: I would have to say Luther Lassiter, Joe Balsis, Irving Crane, Jimmy Caras, Eddie Taylor and Eddie Kelly.

Me: Who did you enjoy competing with the most at the tournament in 1980?
NV: I played Mike Sigel in the finals, Allen Hopkins, Jim Rempe and Steve Mizerak. If you beat those guys you really felt good, because they were real tough to beat.

Me: What is your career high run?
N V: M y personal high run is 337 balls, but my best day playing straight pool is when I played a series of four matches and ran over 200 in each match.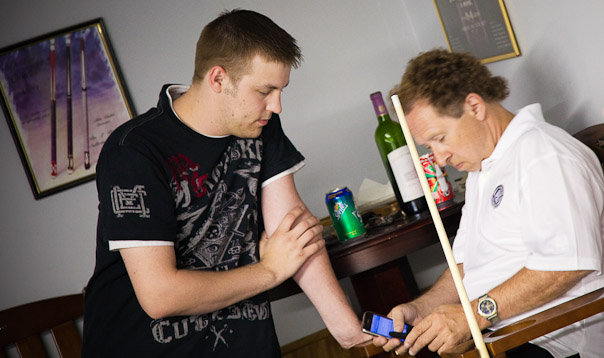 Me: What advice would you give to an aspiring 14.1 player who wants to reach championship level of play?
NV : Yo u have to naturally follow the great players, they were all great shot makers. Almost all the high runners hit the break shots pretty firm in order to get the balls opened up. One of the keys is being able to make all the different break shots. He who misses the most doesn't win. Work on your pattern play. Practice, practice, practice, and watch the good players.

Me: Do you still play 14.1?
NV : I kind of got away from it, there weren't as many tournaments as there used to be.

Me: Why should the players of today play 14.1?
NV: 14.1 improves your concentration and focus. It's a great way to measure your performance as a player. My friend Johnny Archer says it is his favorite game to practice.
Me: How did you feel when you won the 1980 World Championship?
NV: I couldn't hardly believe I won, I wanted to be world champion someday. That was my goal. Those last couple of shots I knew I was going to win, it was exhilarating! It's the greats natural high in the world. Back then almost all the straight pool champions were from the north east. I remember being so proud to announce in my acceptance speech that I was happy to take the title back to the great state of Kentucky.

Special thanks to 8 time world champion and Hall of Famer Nick Varner for sharing his experiences and knowledge with us.
Until next time
Mikey V