---
Like its name implies, Players has a cue for almost all types of pool players. Those starting out, casual participants and even the more serious players looking for a jump break cue will find a product in Players' line. What all of these cues have in common though is quality. All Players shafts are crafted from hardrock maple and are matched with unusual yet striking hardwood butts.

The most popular Players cue that we carry at PoolDawg is the Golden Dragon cue. This Oriental-style cue is black with a golden dragon wrapping up the forearm, coupled with a smaller one twisting around the sleeve. To preserve the quality of the graphics, this and all other cues in Players' line feature a high gloss coating to shield the cue from chips and fading. Even though this cue features LePro tips and a double-pressed Irish linen wrap, it's priced quite economically.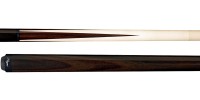 One of Players' more interesting cues is the Sneaky Pete jump break cue. Like all other Players cues, the Sneaky Pete is crafted from hardrock maple and is tested rigorously for straightness.

What makes this cue unique though is what it was designed for. This jump break cue was created specifically for blasting apart the balls during a break, and to jump over blocking balls during play. Although this is a cue that may not be used as often as a traditional one, its price point is affordable enough for almost all players.

Here at PoolDawg we stock dozens of styles of original Players cues as well as the new Players HXT line. If there's a model you want but don't see here, just give us a call at 866-843-3294 or email us and we'll special order it just for you!