Thanks to Evan Clark and his band of talented craftsman, Schon pool cues have garnered a reputation as some of the finest cues in the world. Evan and his team use proprietary cue-making techniques for crafting a line of cues that stand apart from the competition. If you're looking for a balanced, beautiful and sturdy cue, Schon is the pool cue for you.
Butts feature a hybrid core of laminated woods
Inlays and materials are of the highest in quality and include such rarities as genuine Elephant Ivory
Every Schon features a Phenolic lined stainless steel joint and stainless steel pin
Schon cues offer a distinctive and unique hit that cannot be found in any other cue
Each Schon cue contains the highest quality woods, including Birdseye, Ebony, Curly Maple, Kingwood and Cocobolo.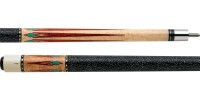 The following are just a small selection of the Schon Cues that we carry. Please keep in mind that due to the unique nature of these cues, stains and inlays may vary. The Schon CX02 features five star shaped ivory inlays and five diamond shaped ivory inlays on the sleeve and ebony points with star shaped ivory inlays on the forearm.
The Schon
CX03
features birdseye Maple with six diamond shaped stone inlays and six "V" shaped cocobolo inlays in the sleeve and stained Birdseye Maple with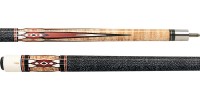 floating cocobolo points and six diamond shaped turquoise inlays outlined in cocobolo.
The Schon
CX52
is a masterful creation of Stained Birdseye Maple with Five Ebony Points with Stained Maple Recon Ivory points and Turquoise Arrow Heads
The Schon
CX24
offers dozens of elegant ebony and ivory inlays in both the forearm and the sleeve. The dominant wood in the cue is birdseye maple, however in addition to ebony, this cue also features a number of cocobolo points and windows.
Didn't see the Schon cue for you? Feel free to browse our entire collection of over 30 distinct models or call us at 866-THE-DAWG or email if you have any questions.