Scorpion SCO29 Sneaky Pete Pool Cue Scorpion SCOBKB Break Cue Scorpion SCO22 Pool Cue
---
If you'd like to sting your competition the way that Johnny "The Scorpion" Archer does, you may be interested in using a Scorpion pool cue. These cues are rapidly gaining in popularity thanks to Mr. Archer clearing the tables with one, but also because of their quality. All Scorpion cues are designed to blend perfectly the strength and performance that serious players desire, but at attractive price points.
One appealing and unique feature of Scorpion pool cues is their fiberglass coating. This acts as a shield for the cue and protects it from warping and any dents or bumps it could be subjected to during vigorous use. Since many of the cues in the Scorpion line feature elegant detailing, it only makes sense to protect and preserve them.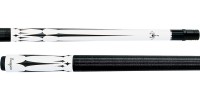 The SCO21 is one of the more popular models here at PoolDawg. This cue's Irish linen wrap provides a comfortable non-slip surface when holding the cue, and its Water Buffalo tip gives you stiff, accurate shots and a high level of ball control during play. As far as looks go, this cue features a simple yet sophisticated design of white and black on the forearm and sleeve. Best of all, this cue is available at a very reasonable price.

At pooldawg.com, you can find the SCO21 and many other pool cues in the Scorpion line. These are more affordably-priced cues, which makes them ideal for players new to the world of billiards.
If you have any questions about choosing the right Scorpion cue, we can help you through this process. Simply call 866-THE-DAWG or email to talk with one of our billiards experts, and see which Scorpion cue is right for your budget, tastes, and style of play.