After the popularity of our Anatomy of a Pool Cue discussion, we've decided to continue the breakout of pool cue parts by looking at joint styles.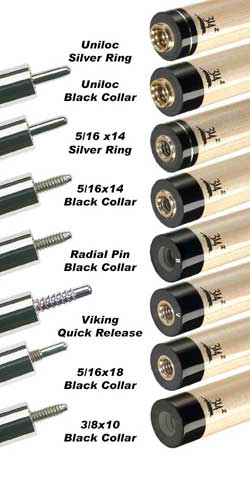 What is a joint?
Simply put, the joint is the area where the butt and the shaft of the cue connect. The joint can be made from any number of materials, however most often joints are made from plastic (also referred to as composite and phenolic), wood and stainless steel. The joint type can affect the feel of the cue, which we'll discuss a bit later. On most cues, you'll find that the male end of the cue is on the butt where the pin is located. The female connector is typically located on the shaft end of the cue.

Steel Joints
Constructed with stainless steel, cues with stainless steel joints provide what is often referred to as a stiff hit. What this means is that when you strike the ball, you don't feel it through the entire cue. Some examples of steel jointed cues include Griffin, Joss and Schon.

Wood to Wood Joints
Wood to wood joints are just that. The connection between the butt and the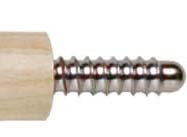 shaft is made with wood rather than steel or plastic. This style of joint gives a feel that is often referred to as fluid or soft. What this means is that when you strike the ball, you can feel it all the way though the entire cue. A wood to wood joint will feel closest to a traditional house cue as a result. Most Elite cues feature wood to wood joints, as do most sneaky pete cues like the Meucci 9701.


Composite Joints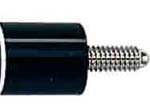 Joints made from composites such as plastic are often referred to as having a compact or solid hit. Generally speaking, the feel of these cues falls somewhere in between the fluid feel of the wood to wood and the stiff feel of the steel. Check out the Adventure cues for some examples of cues with composite joints.

Pin Sizes
The pin sizes most often found on pool cue joints are: 3/8 x 10, 3/8 x 8, 5/16 x 14, 5/16 x 18 and Uni-loc. Most of these can be seen in the image displayed here. While this represents the majority of the cues on the market today, there are always exceptions.

Should you have any questions, please don't hesitate to call us toll free at 866-THE-DAWG and we'll be happy to help you out.