Choosing The Right Pool Cue Case
Posted by
:
Samm Diep

So, you're in the market for a new cue case. With so many options these days, where do you even begin? Here are a few things to keep in mind when searching for the right case for you.

How many cues are you carrying?
If you're a beginner, you will most likely just need a 1x1 case. In case you're wondering what that means, the first digit refers to the number of butts (the bottom, or handle, of the cue stick) it carries and the second digit refers to the number of shafts (the top, skinnier end) it carries.

Why do you need more than one cue? Good question. As you improve, you may decide to purchase a specialty cue for breaking or jumping. In the beginning, most players just break with a house cue so a case that holds one butt is plenty. Some fancier cues may come with an extra shaft, so if you have one of those cues you may need a 1x2.

If you have a separate break cue, you'll want at least a 2x2 case. Again, if you have an extra shaft for your playing cue, you'll want to consider a 2x3. If you also have a jump cue, you may need a 2x4 to allow for the extra jump shaft. Some cases even have a sneaky side pouch that fit standard jump butts. If you don't think you'll be needing all that extra room, consider passing on the upgrade because the extra space only adds extra weight and depending on how much you'll be carrying that thing around, it could get a little heavy.

Hard Case or Soft Case? That is the question.
The real question is: How much traveling do you plan on doing with your cues? If you only use your cues around town at local tournaments or at your pool buddy's house, then the hard cases tend to give a little extra protection when you're not worried about weight restrictions. The thing I like about most hard cases is that you can usually stand them up or safely lean them again something and use them as cue holders while you're playing.

A nice soft case can also give good protection but with the 50 pound airline weight restrictions these days, those few extra pounds you save from a hard case to a soft case can mean bringing an extra pair of shoes or even another cue. In general the softer cases are lighter in weight and friendlier on the shoulders to carry.

Pouches, Snaps, and Zippers! Oh My!
How much room for storage do you need? Most guys I know don't keep much in their pool cases. A piece of chalk and a couple tip tools are all they need. Some people like to use their case to store their wallets, cameras, or cash when traveling to tournaments to keep their pockets empty or so they don't have a to carry a purse.

Choose a case that accommodates your storage needs. Most cases come standard with a large pouch and a smaller one. I recommend zipper pouches over lock snaps as I find they tend to wear a little quicker over time. Zippers can also get stuck and break but are more easily repairable.

Stay Strapped Up
Most cases come standard with an adjustable strap. I'm in love with the PoolDawg comfort strap! If you are planning to replace the strap on your case, make sure it comes with a removable one. Also, side straps tend to be more comfortable to carry than center straps.

Frank Says: "This Old Dawg knows some tricks! With two of the PoolDawg Comfort Straps, you can turn your case into a backpack. It makes carrying that heavy bag much easier!"
Other Things to Consider
Function or Fashion? - Cases are built from all different materials these days. Leather cases look great and tend to be more durable but also scratch/scuff more easily if not well protected. Vinyl cases can often be a little lighter in weight and easier on the pocketbook.
Ease of Retrieving Your Cues - Spring loaded cases are nice and they make it easier to get your cues in and out of your case when you want them. It's nice when you don't have to flip your case upside down to dump your cues out every time you need them. Most cues are a standard 58" long when assembled. If your cue is longer than that, make sure you find a case that's long enough.
Joint Protectors - Some cues come with joint protectors. Unless you're doing some serious traveling, they are not necessary for day-to-day protection of your cues. However, depending on the design of the case you choose, you may find that extra length makes it easier to get your cues in and out of your case.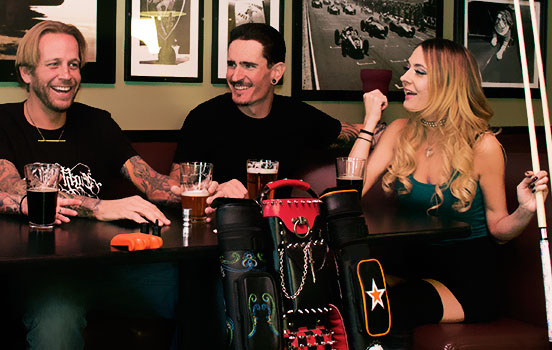 These are some of my personal favorite production cases on the market today.
Single Cue Cases: PoolDawg or Action Cases
Hard Leather Cases: Elite or Instroke Cases
Light Weight Hard Cases: Predator or Eight Ball Mafia
Soft Cases: Predator Sport or Action Cases
If there's one thing I've learned about pool cue cases, it's that everyone has their own taste and preferences. Determine what your needs are and you can find the perfect case for you!