Anthony Beeler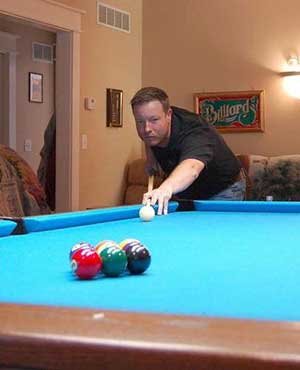 Anthony Beeler is an instructional columnist for Pool and Billiard Magazine and On the Break News. He is the owner and founder of Virtual Billiard Academy and the Angles as a Second Language Course. He is a player representative for McDermott Custom Cues and is a four time Kentucky State 9-Ball Champion. In addition, he also won the 2013 BCAPL National 9-Ball Championship and has a total of six top 25 national finishes to his credit.
Beeler finished the Bluegrass BCAPL 2013-14 and 2014-15 seasons as the number 1 ranked player in Kentucky, and is also known for establishing the record for most amateur pool tournament victories in one year (62), which was set in 1999.
He is a certified instructor for the American CueSports Association (ACS) and is the primary author of the ACS National Billiard Instructor's Manual. Recently, he released a new book entitled, Unstoppable! Positive Thinking for Pool Players.
Anthony is also a fully licensed Kentucky teacher with a master's degree in Education Leadership. He has worked in public education for fifteen years. During that time, he worked as a school district administrator for nine years and as a Virtual Learning Consultant for the Kentucky Department of Education for one year.
Throughout his pool-playing career, Anthony has won over three-hundred pool tournaments and cashed in several professional events. He is an advocate of long-term instruction and with his Virtual Billiard Academy program you can get 3 months of online instruction for roughly the same cost most instructors would charge for one day of face-to-face instruction. If you have a question about your game or if you want to move your game to the next level feel free to visit www.poolteacher.com or send an email to poolteacher@ymail.com.