It was a beautiful summer day in Las Vegas, Nevada. The 2015 BCAPL National Championship was in full swing and my team was in the middle of playing an 8-Ball match at the Rio All Suites Hotel and Casino. My teammates Jerry Watts, Brian Watts, Clay Rhinehart and Bryon Baker were all in attendance to help our team make a run towards a national title.
I was 7-0 on the evening when team captain, Bryon Baker called me to the table to compete in what was scheduled to be my final game. My opponent was a very strong player, capable of running out from almost any position. I knew it was going to be a tough game and I couldn't afford to make any mistakes if I wanted to finish the day with a perfect 8-0 record.
As my opponent broke the balls, it appeared that he was going to have an easy run out. He calmly began plucking solid balls from the table. However, his run out went awry as he missed a simple shot. However, when I approached the table I knew I was in some serious trouble (see figure 1).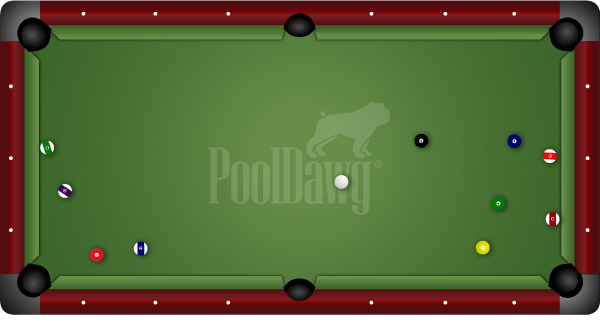 At first, I thought about trying to bank my twelve but with the ten being tied up, there was no reward in pocketing the ball. I knew I had to do something creative. The only way for me to win the game would be to play safe and hope for a better shot later.
The problem was how do you play safe? My opponent had 4 solids on the table and I had a troublesome ten ball that I needed to free up. As I surveyed the situation, I knew it was going to be a difficult undertaking. My only clear option was to shoot my ten into his three at a slow speed, (playing a combo and pocketing his ball).
I decided that my best option was to also follow the cue ball behind my ten after it stops dead (Figure 2), alleviating my problem and also hooking my opponent from directly contacting any of his balls. This option gave me a realistic chance to return to the table with a decent shot.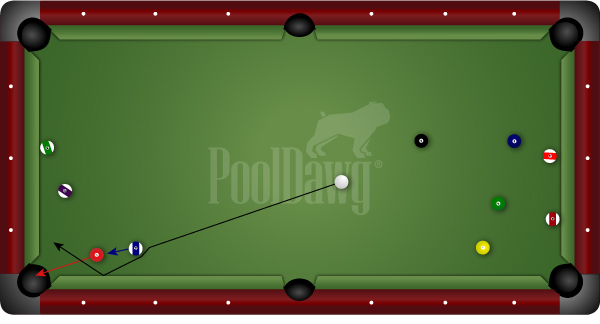 The key is to cut the ten slightly to the right and make a full hit combination on my opponent's ball with top right sidespin. The full hit will stop the ten dead allowing the cue ball to follow up directly behind it. After executing the shot, one of my teammates said, "Great shot!" I had blocked my opponent from hitting any of his balls leaving the cue ball at position "A" (Figure 3).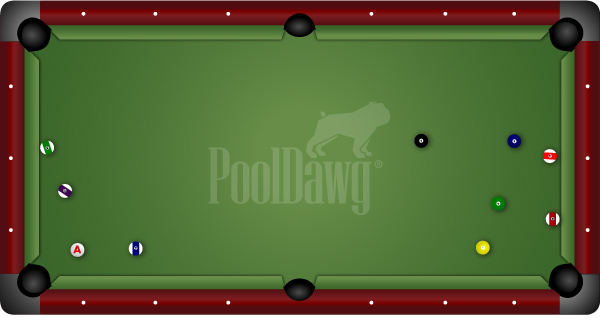 When he returned to the table, he kicked at one of his solids, leaving me with an easy run out. I stepped up to the table and ran the remaining balls to win the game.
As I walked away, I knew I was very fortunate. I had captured victory from almost certain defeat. Thoroughly weighing all of your options can be a powerful ally. Sometimes it may seem like you don't have a chance to win. However, great players are masters at creating something from nothing. So the next time you are at the table in what appears to be a no-win scenario look for ways to be creative. Sometimes you have to manipulate the table to turn a losing proposition into a fighting chance to win.