I need a pool cue case. Which one should I buy?

If you have your own pool cues but enjoy playing billiards at a pool hall, you should be using a pool cue case. These cases aren't just for professionals, either. A quality pool case will protect your cue(s) whether you're a casual pool player or someone that participates in tournaments on weekends. They'll also give you that feeling of being a pro as you put your cue together at the table.

Here at PoolDawg, we carry a wide range of affordable billiard cue cases from some of the most respected brands in the industry, including Action, Porper, and Instroke, to name just a few. These cases come in small sizes (which carry a single butt and shaft) and large sizes (up to three butts and seven shafts). We have a case for every type of player at all skill levels.

When it comes to choosing a case, you need to know the difference between soft, hard and box cases. Here's a quick breakdown of the different case types: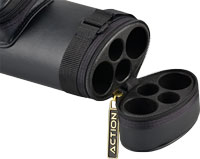 Hard Cases
Hard cases are by far the most popular pool cue cases. This style of case will feature high impact tubes that hold your butt and shaft in place while you're on the move. These cases help protect against dents as well as warping. These cases vary in size, with the smallest being a one butt/one shaft case, meaning they allow you to carry one cue butt and one cue shaft in the case. Cases can go as high as three butt/seven shaft but are most commonly found in the two butt/two shaft and two butt/four shaft variety.

Soft Cases
Soft cases are good for starter cues or for short term storage. Although they do not feature the tubes that you find in hard cases, soft cases do keep each shaft and butt in separate compartments to protect from denting. Soft cases do not feature as many exterior pockets as hard cases, so you won't have as much room for your accessories. Because of their limited nature you won't be paying as much for a soft case as you would for a hard case. Soft cases typically come in the one butt/one shaft variety, but you can get soft cases as large as two butt/four shaft.

Box Cases
The third choice for cue cases is the box case. Box cases are very nice looking cases, which is one of the primary reasons that players buy box cases..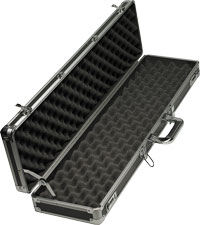 Many box cases have a briefcase style, complete with latch style fasteners. Some of the nicer box cases can also feature combination locks for additional security. But these are just a few of the many billiard cue cases we carry. For more detailed descriptions, images, and to view our full line of cases, check out our website. We offer one of the largest selections of pool cue cases, and at affordable prices to boot.

As always, if you have questions or need more information, don't hesitate to contact us at 866-843-3294.