Mark Finkelstein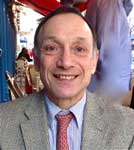 Mark Finkelstein is an ACS Level 4 and PBIA Master Instructor. Mark has been playing pool for almost 60 years and is the house pro at Slate and Eastside Billiards in NYC as well as the Instructional Columnist for NYC Grind. Mark also publishes at Easy Pool Tutor and various other pool publications.
Mark has written a book, "Pool Ramblings" which is available from McNally Jackson publishers. He is also on the staff of the National Billiards Academy that teaches pool seminars throughout the United States.
Mark is active with both the PBIA and the ACS Instructor Committees, teaches private lessons in the New York City area, plays exhibitions and runs tournaments for Corporate parties and donates his time to various schools and charities promoting pool.
Mark is also an accomplished player who has competed in Japan, the Philippines, the West Coast and the New York area.