Joss JOS04 Pool Cue Joss JOSSP01 Sneaky Pete Cue Joss JOS16 Pool Cue
---

Unlike the companies that churn out cues by the thousands, Joss takes a different approach to pool cue making. Every Joss pool cue is a family effort, and is distinctly unique thanks to a serial number. This not only increases the value and character of the cue; it shows that Joss is one pool cue manufacturer that cares about what it does and the products it sells.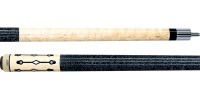 All Joss pool cues offer users a high level of accessibility, attractive good looks, and old world craftsmanship. A perfect example of this is Joss's economically-priced JOS02 Mother of Pearl cue. Inside burgundy-stained Birdseye maple are six mother of pearl diamond and circle-shaped inlays, all linked by elegant ebony. A steel joint bonds the cue and offers players consistently rigid shots.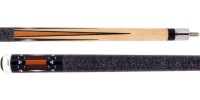 With such features, you'd think the Mother of Pearl cue would be at the top of Joss's line, but that's not the case. It's actually one of the least expensive Joss cues, with the JOS12 taking that title. This cue features Birdseye Maple with six points: the three longer points are lacewood with ebony veneer, and the three shorter points are ebony with diamond shaped white holly inlays. Its stainless steel joint and shorter taper and thicker shaft improves both the accuracy and power of your shots.

Joss pool cues feature a changeable weight system, so you can alter the cue's weight by two or three ounces as needed. All Joss cues are also priced competitively, but we encourage you to check out pooldawg.com for more detailed information. We carry the entire range of Joss pool cues, and offer them with free shipping. If you need a bit of guidance picking the right cue, don't hesitate to contact us. Simply send an email or call 866-THE-DAWG for a bit of help from one of our billiards experts.