McDermott G224 Pool Cue McDermott G206 Pool Cue McDermott G225 Pool Cue
---

Since 1975, McDermott has been crafting its first-rate pool cues in the United States. All of McDermott's American-made cues feature three-piece construction, which offer users consistently straight shots for the lifetime of the product. They also feature hand-glued precision-milled inlays and rings crafted within .001 of an inch for a strong and secure fit. In addition, McDermott is one of the few companies that offers a Lifetime Guarantee against cue warping and manufacturer defects, making it an extremely attractive and risk free purchase.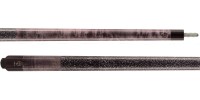 One of the most affordable cues in the McDermott line is the GS06 pool cue. This cue's forearm and sleeve are crafted from Michigan Maple with Titanium Grey European Organic Stain, which has a gleaming and sophisticated appearance. The cue's wood-to-wood joint provides players with clean and hard shots, and its leather tip offers exceptional ball control during play. In addition, McDermott cues are guaranteed for a lifetime to remain straight and free of warps or bends.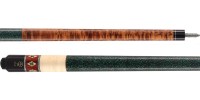 At pooldawg.com, a popular McDermott cue choice with our customers is G303. This cue is will bring out the Irish in anyone with its eye-catching, mahogany-stained and natural Birdseye Maple with green Dymondwood clovers inlaid into Maple diamonds. It even has an Irish Linen green and black wrap on it. It comes with McDermotts G-Core shaft which uses CT technology and three-layer construction to enhance hit integrity, minimize vibration and allow you to maintain efficiency and accuracy. This is one cue that lives up to everyone standards.

These are just two examples of McDermott cues that we carry at pooldawg.com, so we encourage you to visit our website to see the rest. McDermott cues are ideal for all types of players thanks to their high quality construction and affordable prices. If you'd like a bit of help determining which McDermott cue is right for your style of play, call us at 866-THE-DAWG or send us an email for advice from one of our seasoned pool pros.