One Pool Cue That Can Do It All!
Category: Billiards Products, New Products

This Promotion is currently sold out. You can still purchase the HXTP Break Jump cue but it is not currently being offered with the free shaft.
The break shot is the one shot that happens in every single game of pool. The results of this crucial shot can often times be difference between winning and losing. Serious pool players know this and they also know that you shouldn't use your normal playing cue to break with. The force from the break shot will distort the shape of your leather tip and cause inconsistencies in feel and performance while running out the rest of the rack.
That's why competitive pool players have a completely seperate stick designed specifically for the break shot. They may even have a third stick for situations that require them to jump over other balls that are getting in the way. That adds up to a lot of equipment to haul around and can quickly become a large financial investment as well. Why can't there just be one pool cue that can do it all?
Good Question!
Pooldawg has the answer...
While supplies last, we are offering a FREE PureX Technologies low deflection HXT playing shaft (A $146 VALUE), with the purchase of one of the best Break/Jump pool cues on the market. The PureX Technologies Break/Jump cue features three interchangeable quick-release joints that allow you to configure this utility pool cue into four different breaking and jumping power configurations. With this amazing offer, the additional HXT low deflection shaft gives you the bonus option of a top–of-the-line playing cue with shorter configurations to deal with problematic obstacles around the table. There is no need to carry around 3 or 4 different pool cues anymore! This versatile pool cue does it all and it is backed with a Lifetime guarantee which even covers warpage!
The Pure X Break/Jump Cue features several technological enhancements to increase the performance for breaking and jumping shots:

Multiple Break and Jump Combinations allow this cue adapt for any situation. The full length is a standard 58 inch break cue. Remove the middle butt section to increase your torque and leverage for a 52" Power-break cue. Just use the shaft and middle section for a 35.5" dart jumper for close jump shots or use the long jump sections for more accurate jumping.

The Mz Multi-Zone Grip assures intense traction and stability on even the most violent of break shots. The different traction zones also allow the player to hold the cue in different positions to give them the perfect level of grip and control.

Dart Shaped Jumper Attachment provides extra control and accuracy on Jump Shots. Tapering this section facilitates a more comfortable dart style grip for jump shots and a better rear weight balance for increased control.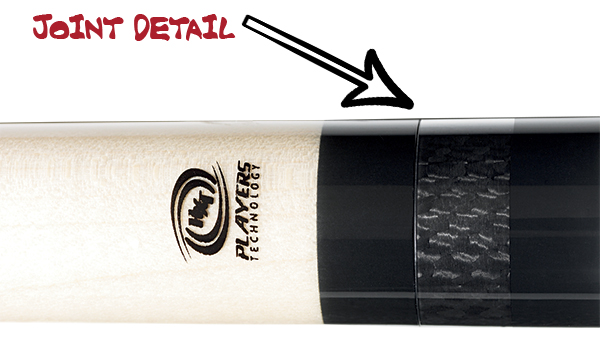 Carbon Fiber Impact Systems at the joint and below the tip is made of a virtually indestructible material and is utilized at the key impact zones.

XLG Quad Face Tip increases ball-to-tip contact for a radically extended sweet spot. This phenolic tip (which is actually a brown phenolic) has no give at the moment of impact to get you more pop on your jump and more power for the break shot.

A Bonus PureX HXT Shaft ($146.99 value) is included with this cue while supplies last! The HXT low deflection shafts reduce cue ball deflection with a high-tech lightweight ferrule polymer that previously was only available on shafts priced nearly twice as high. Available in the standard 12.75mm or the more advanced 11.75mm skinny version, all HXT shafts feature a Kamui Black Soft layered leather tip and are backed by the PureX Technology Lifetime Warranty.
The PureX Break/Jump pool cue is available in black, white or pink at 15% off the suggested retail price of $259.99 for a sale price of $220.99 and you can select the Free HXT shaft in 12.75mm or the Free HXT Skinny shaft at 11.75mm. This deal qualifies for free UPS ground shipping and also has the Pooldawg 60 day satisfaction guarantee so it is risk free! If you are not 100% satisfied we can take it back for a full refund or exchange. All Players Pool Cues come with a lifetime warranty that even covers the shaft if it ever warps.
Click on the style you like best and take advantages of one of the best pool cue deals around this holiday season!

Players Pure X HXTP1 (Black) Break/Jump Pool Cue with Free ($146.99 value) HXT Low Deflection Shaft.
Retail Price: $406.98, Sale Price: $220.99 - Total Savings of $185.99

Players Pure X HXTP2 (White) Break/Jump Pool Cue with Free ($146.99 value) HXT Low Deflection Shaft.
Retail Price: $406.98, Sale Price: $220.99 - Total Savings of $185.99

Players Pure X HXTP3 (Pink) Break/Jump Pool Cue with Free ($146.99 value) HXT Low Deflection Shaft.
Retail Price: $406.98, Sale Price: $220.99 - Total Savings of $185.99