2015 PoolDawg Catalog Update
Category: PoolDawg Catalog
As we close out 2014, we at PoolDawg are very happy to announce the printing of our 2015 catalog! We're taking a somewhat different approach with this catalog. We got so many requests to include some instructional materials in the catalog that will be including some of our most popular (and most useful) articles in the 2015 catalog. We're expecting the catalogs to start mailing in the next couple weeks, so if you're on our mailing list, keep an eye out for something that will look like this: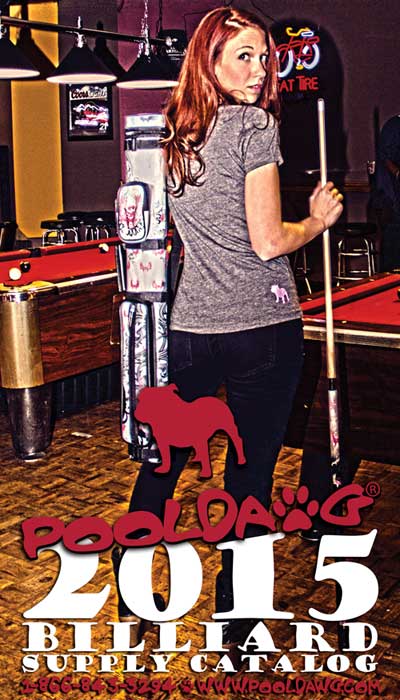 You know all those photo shoots we've been talking about over the past few months? Well, now you get to see the results! This year the lovely and talented Chrissy Neptune (we love working with local up and coming models!) will be gracing the cover, showing off the awesomely awesome Eight Ball Mafia EBM11 pool cue and the matching 2x2 hard case.
If you're not sure whether or not you're on the list and want to get signed up for our new catalog, just head over to the catalog sign up page and we'll make sure one gets sent out to you. Keep in mind though that it will be a few weeks before the catalogs hit mailboxes.
That's all for now. Thanks to all of our customers for making 2014 such a stellar year! All of us here at PoolDawg are looking forward to helping you improve your game and find the perfect billiards gear in 2015. Have a great New Years and we'll see ya'll in 2015!